She is Rebelle's daughter. Turquoise is a "blue" (gray born gray) Briard. She is a little sweetie and her tail never stops wagging. She is just stunning with her silver coat, excellent structure, ideal size and the easy trot of a real sheppard.

Turquoise was evaluated at 12 months old at the Canadian Rassemblement by French Judges and was rated Excellent, and was used as a demonstration dog for the judge education seminar they gave for her exceptional coat quality and type, while her father, Rebelle, was also used as a demonstration dog for excellent movement.

Turquoise is also an AKC Champion. She is the very First Blue Briard to reach that title. We are extremely proud of her accomplishments as it takes excellence to be a pioneer. Our friend Greg Strong has shown Turquoise and all the ones who saw them in the ring could witness her happy character … as she was jumping on Greg's back and having lots of fun in the ring.

She participated in the US Rassemblement, at the2004 BCA National and she received her Selection, being again the first ever blue briard to be selected in the US.

In February 2005, Turquoise gave birth to 1 single tawny puppy but what a puppy: Aramis. Sire is Tornado. Aramis is with us as he is Rebelle's grandson, Turquoise's son and Tornado' son, a true family affair in all 3 colors: black, grey and tawny ! His temperament is a dream and so far he looks extremely promising too.

And for the big news: Turquoise came to France with us this September 2005 and went to two shows. At the first one, she got CACs and RCACIB and at the French National, she passed her temperament test, got SELECTED and got ranked 5th black female of the national. We are extremely pleased that she did so well for her first international trip. She is a 3rd generation of French selected briard, after grand-ma Layla and father Rebelle.

Because they are so unique, we include here her measurements in cm. They highlight what is almost gone of our breed: a huge head, with a perfect 50/50 ratio and deep and broad chest. Height: 60 cm
Head length: 26 cm (standard says 40% of height, which would be only 24 cm. Her head is almost 1inch longer), with a perfect 13 cm for the skull and 13 cm for the muzzle. Chest perimeter: 78 cm.

Her rating in France at both shows were "excellent" on all items of the physical and movement evaluation.

And another very big news: Turquoise went back to France with us in May 2007 and she participated at the Championnat de France, in Montlucon. She won the CACS and the RCACIB, 4 years after her father, Rebelle, who finished his French championship at the same show and also had won the CACS at the Championnat de France and Euro Dog Show. The Championnat de France is one of the two shows that one must win in order to become a Fr champion.

And now, end of June 2007, Turquoise won Best of Breed at the Canadian National Specialty, went on winning best female two more times at the rest of the cluster and earned her Canadian Championship in just one weekend.
Turquoise is the first and only blue briard to have a AKC championship, a Canadian championship, won a national specialty in north america. She is also the only bitch in breed history (all colors) to have achieved Selection in three countries: USA, Canada and France.

Turquoise is not only a sweet heart, but she also never ceases to amaze us in the ring by being consistently recognized for her outstanding qualities.

Turquoise celebrated her 13th birthday in the fall of 2015 surrounded by her 9 great-grandchildren (the babies of Paws). She was not overly thrilled with them and certainly taught the little ones that elderly need to be respected ! But such a unique pleasure to see all the generations together, 4 of them.

At 13, Turquoise had slowed down but she had all her mind, was still very sharp about all things around the house and enjoyed very much trotting around the yard and then laying in the sun, watching what was going on in the world. She would make a point of doing her tours on a very regular basis, like the good serious briard she was. She certainly spent most of her time on her bed sleeping and we suspected that sooner than later she would leave us. And so she did, on that Tuesday morning, just before Christmas 2015. Turquoise was quite a unique girl and brought us many unique moments in life. She was a stunningly beautiful girl even in her old age and we will certainly never forget that she is the true founding mother of Fairytale. Mother of Aramis, grandmother of Paws and Horat and great grandmother of Lily. Sleep tight my beautiful girl.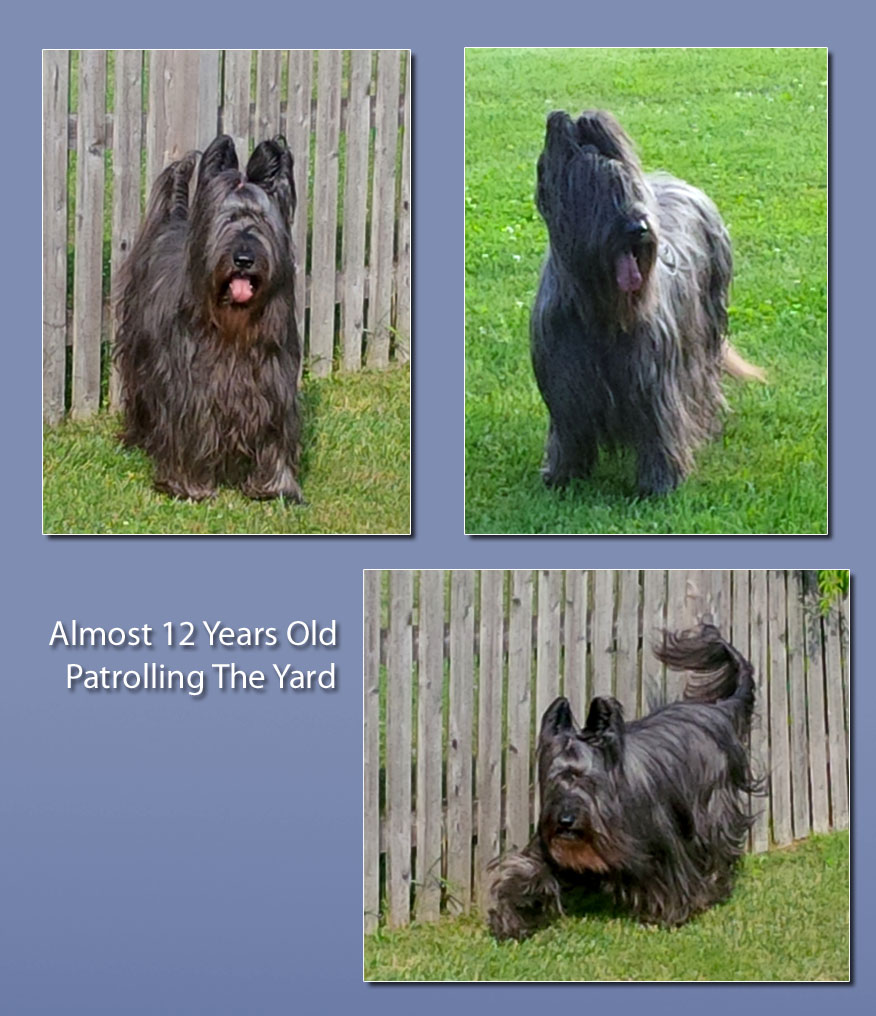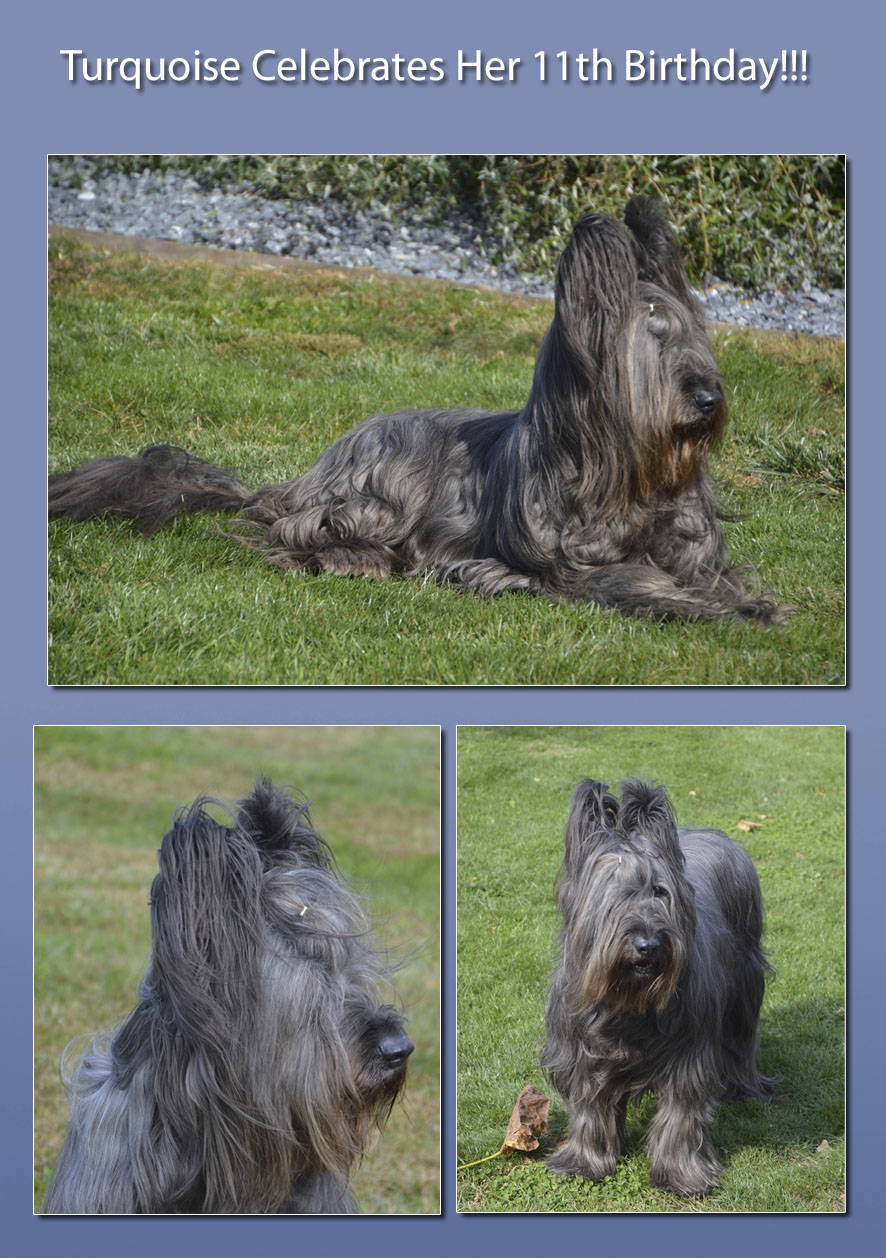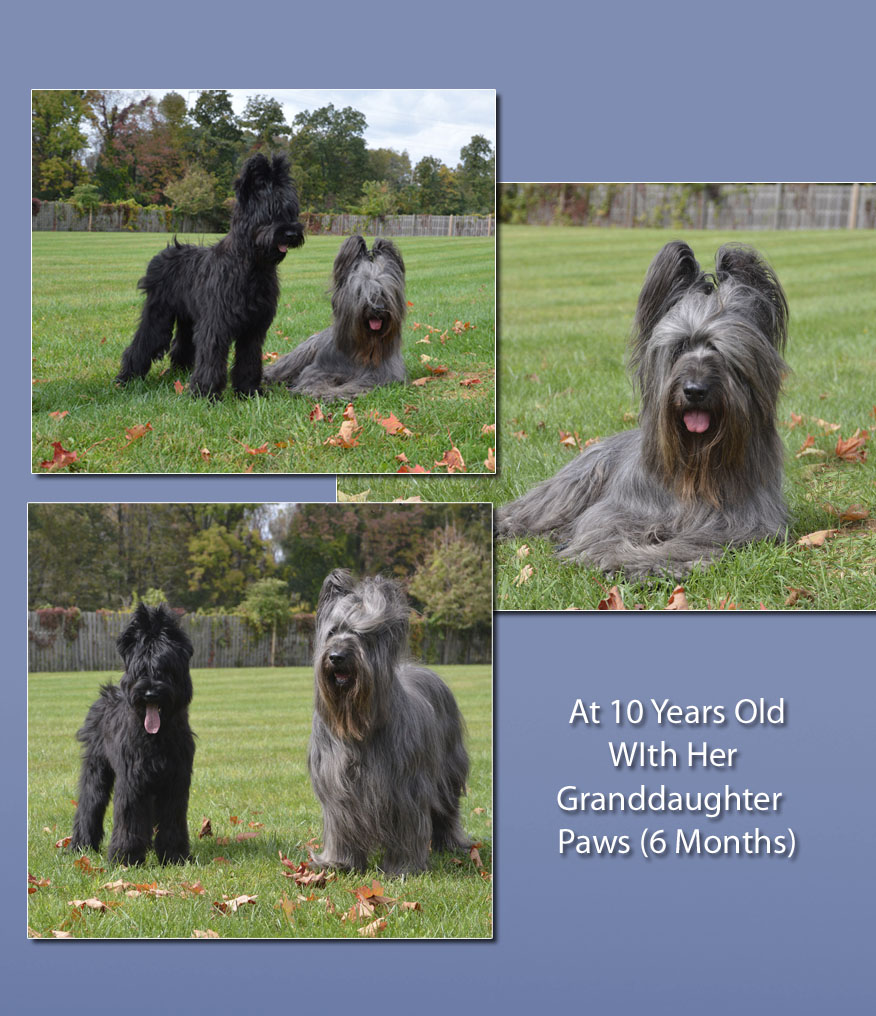 }