Words cannot describe Rebelle. Rebelle was not a dog. He was a partner, a devoted friend, a total love, a guardian, the king of our household, a grand seigneur. I always told my vet, Rebelle is my heart on legs and it is exactly what he was.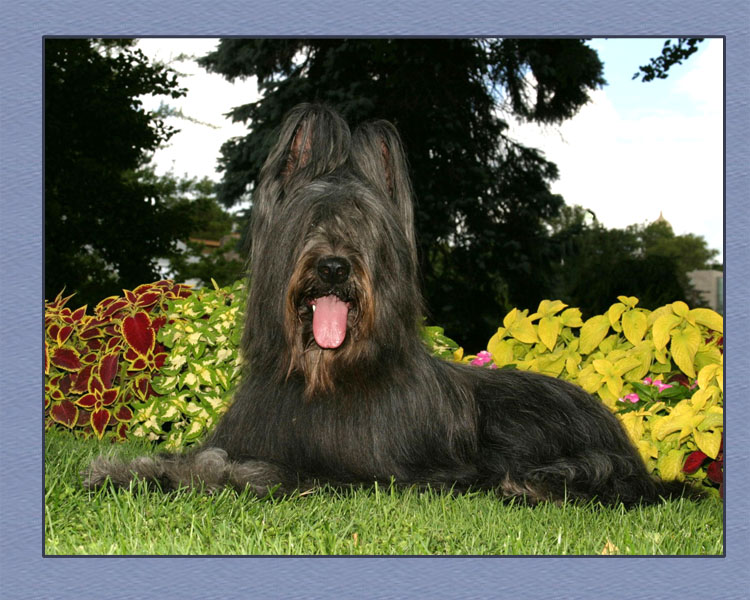 That Rebelle was one of the most handsome males there is, has been or will ever be, is the most certain thing. But for me, he was much more than that as illustrated by the fact that he never was sent out to be a "special" (a campaigned show dog). There was no way he would ever leave my sight. He never spent a day without me, with the exception of these recent years trip back to France when I decided he would not fly anymore. He never was sent to a kennel. He spent every nights of his life at our bedside, with his froggy toy. Nobody beside me ever showed him, groomed him, handled him, took him for walks or trips. Rebelle was the center of my life and the center of our family. And I was the center of his life. Our relationship was unbelievable and is unexplainable.
Unfortunately Rebelle had a bad habit of eating clothing and textile which led us to loose him. Never will I be consoled of his disappearance. He is always here beside me in my mind but when I put my hand down to reach his head, I only feel emptiness and when I look down, I do not meet his eyes anymore.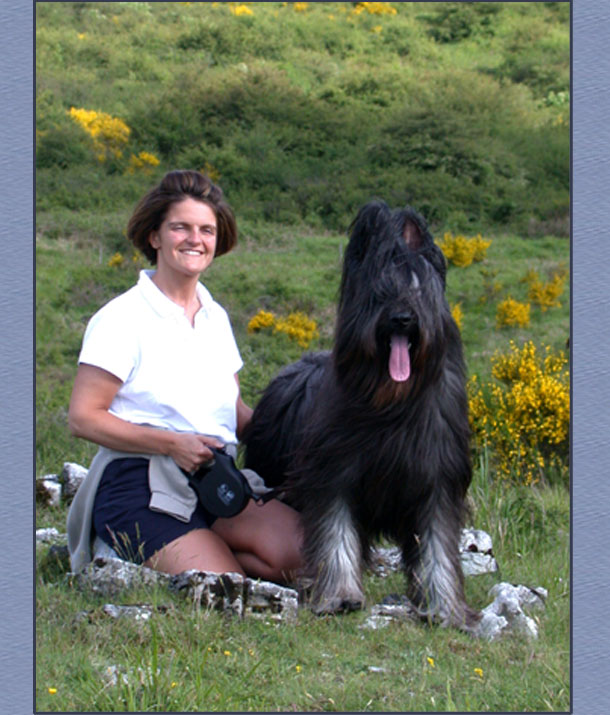 Rebelle was born in a farm, in the Southwest of France, bred by a true shepherd and long time briard breeder, Jacky Passebosc. Jacky is our friend and also a mentor to us. Rebelle's father, Hapache, was Jacky's best friend for 14 years and has produced so many outstanding children, both physically and as loving family members. Behind Rebelle are dogs that were in fact sheepherders and guided Jacky's herd for many years up and down the mountains.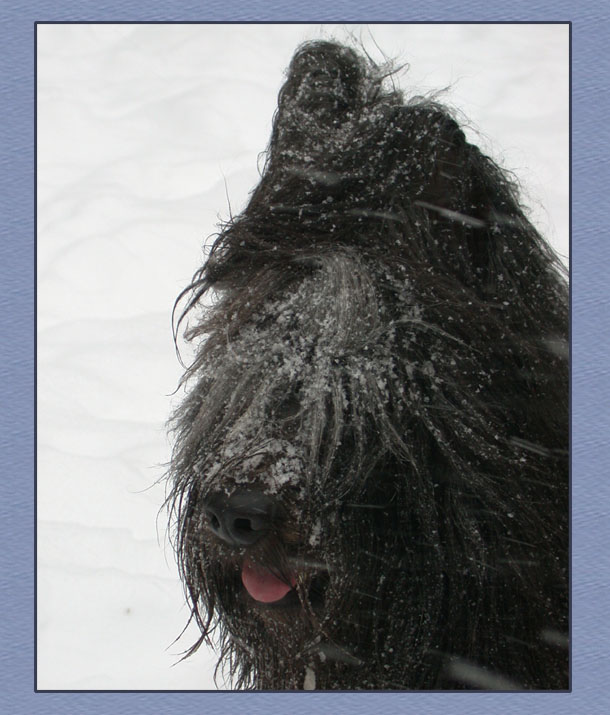 Rebelle was born black but showed signs at very young age that he would be gray. When I first met him, I cannot even say I saw him because it was a dark rainy day, late at night. But I felt Rebelle. He climbed in my neck and stayed there till I had to put him back on the floor. He left Jacky and the farm to fly to Pennsylvania with us. He was 8 weeks old and already owned my heart.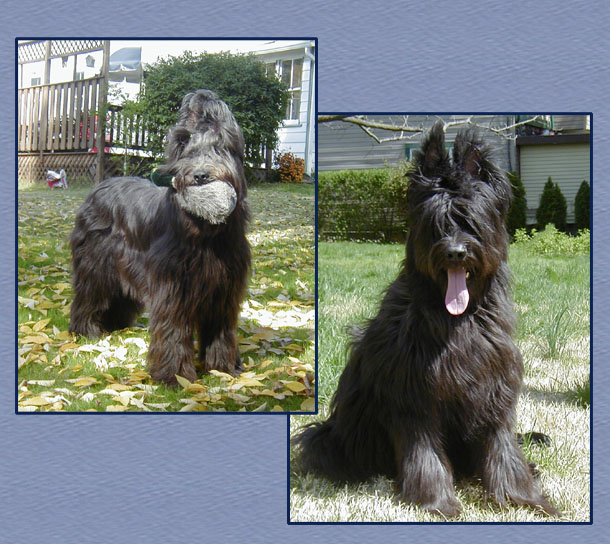 Rebelle grew as a magnificent puppy. He earned his US championship in no time and won puppy groups and placements along the way with me. We went back to his homeland for visits and took him to a show just to get his French conformation in my home town. He won the CACIB at 15 months that day. Since our vacations often led us to France, Rebelle would come along and if there was a show during that period of time, we would enter him. Rebelle won every time he was shown, with the exception of one reserve place at a regional specialty. Therefore in just a very limited participation he became a French Champion, which is not a minor achievement since only 4 males can become French champion per year in France. He was just 2 years old. In the 7 times, he was examined by a FCI judge, he has always been rated Excellent. Rebelle is now the first ever male to be a French Champion and an AKC Champion. He was such a worker in mind that he would do anything I asked him to. He never showed with the double handling technique as it is typically done in France because he could care less that someone else was calling his name. He showed looking at me.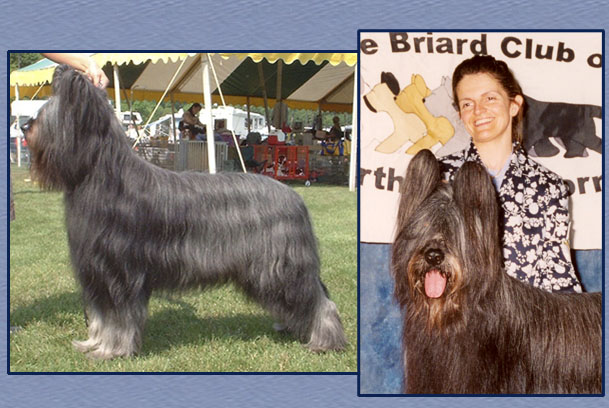 Rebelle loved sheep and loved herding. I used to take him to the Rapsberry Sheep farm where he would be so focused and happy at the same time. I had no idea what herding was about and learned from him what I was supposed to do. He knew by instinct. We never competed in herding, only made sure he got his official herding instinct certificate. One of my dear memories is when we spent a bitterly cold Sunday at the farm with 160 sheep in an opened field, with snow on the ground, and walked back the herd to the fenced area. There was also Jon Katz with his border collie. The second very emotional herding memory is when after the 3 weeks of hospital stay (following his 1st surgery to remove a hat from his intestine and his following peritonitis), Rebelle returned to the farm and was there all pizzazz and all life, all back to himself, 4 months later. I had made him the promise when he had no chance to survive that I would take him back to the sheep if he would get better. This was 2.5 years before adhesions (results of his surgeries and peritonitis) would take him away from me.
Rebelle never cared for the obedience ring nor rally but he for sure was able to be yards away, loose with sheep, and follow orders without any hesitation nor rebellion. Like the smart dog he was, he had to have a purpose, not just sit or lay down for the sake of a command.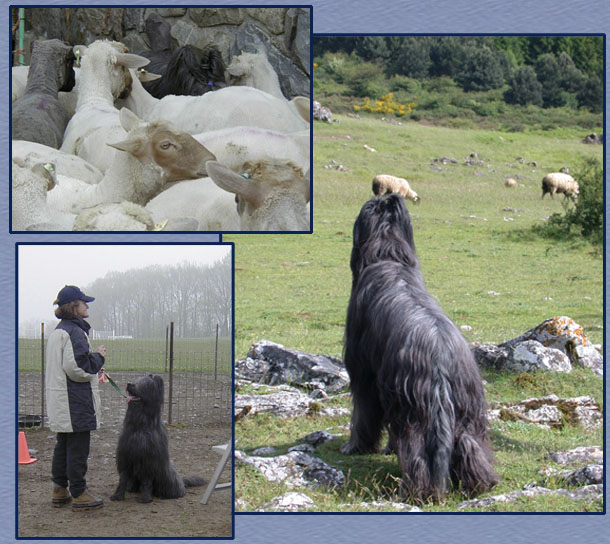 I showed him in the US in the BOB class, only a handful times. It was mostly because I was so proud of him, that I wanted him to be seen. We took one trip to Canada for a booster show and he was Winners Dog each day. He became a Canadian champion. Of course he was also "Select" in the USA and in France.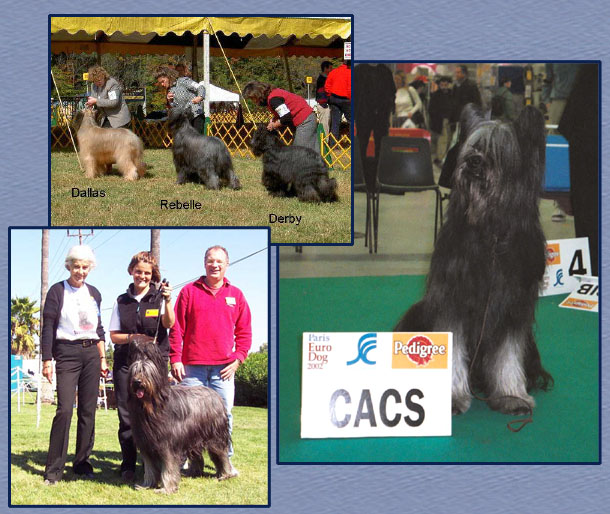 Rebelle produced some children of his own and thanks to frozen semen will produce more. His daughter,
Turquoise
(see her page) lives with us and very much resembles her father. His son
Sage
(see his page) also lives with us, along with his grandson
Aramis
(see his page).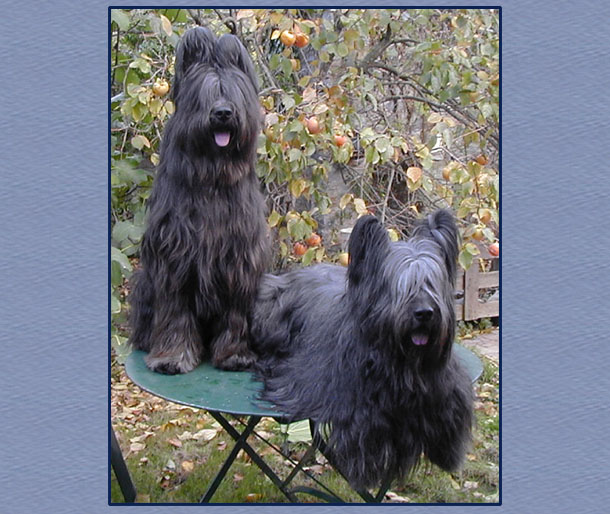 People often think that one can compensate loss by reporting affection to the other dogs of the family. This does not work that way. As amazingly similar to him, his children are, as loving as they are, as demanding and trying as they are, even them, will never replace Rebelle.