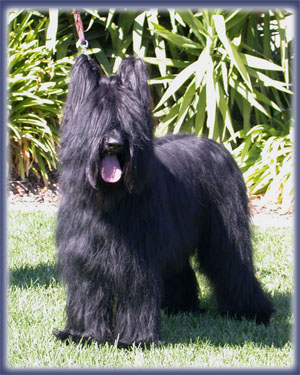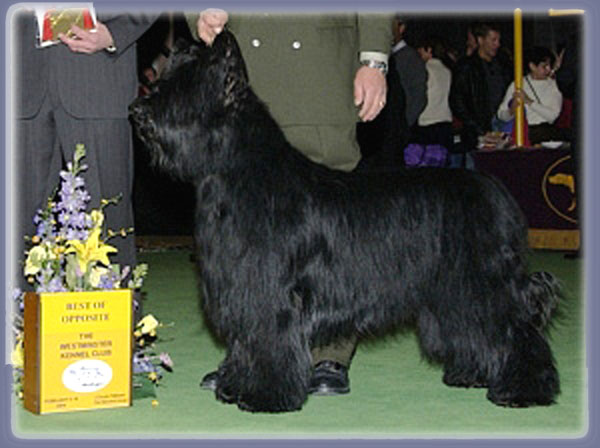 Tornado owes is name to his famous outgoing attitude and his strong herding instinct
that makes him circle around us ! He is all flame and pizzazz, full of life and energy,
never tired.

Tornado was our first show Briard. He was bred by Sendero's, Merry Jeanne and
Tommy Millner. He was the one puppy who always wanted the attention and he has
kept that trait: very proud of himself. Tornado is all exuberance and is the greatest
fun to live with. At 6+ years of age, you would think he is a 6 month old puppy !

Tornado's type cannot be missed, along with his gorgeous head and breathtaking
side gait. He is in full, beautiful, jet black coat.

In 2002, he was shown by Martin Cabral for three quarters of the year only and
accomplished so much:

BIS under the very respected judge Bettie Krause, Won the two regional specialty
shows that he was entered in. Both of them, as a new comer on the circuit and after
very limited time with Martin. He has won numerous supported entry best of breeds.
He consistently placed in the group and won several group 1s. All this allowed him to
finish the year 2002, as the number 2 Briard in the USA, just a few points behind
the number 1. He was the number 1 black Briard through the year 2002.
We are extremely proud of him.

In 2003, Tornado spent another 8 months with Martin and they accomplished so much again: Another specialty win, AOM at another specialty, several group 1s. They completed the year being BOS at the AKC Eukanuba, #4 Briard in the US and again the #1 Black Briard. What a boy !

Tornado just retired after Westminster 2004, where he showed like a dream and received the BOS award and was certainly a crowd favorite. He and Martin have been an outstanding team, promoting black briards in the US and turning quite a few heads. Back at home, Tornado is the same kid, full of fun and life.

We will never be able to thank Martin enough for the relationship he developed with Tornado and the incredible care and love he gave him.

Now a senior, at 9 years of age, Tornado simply enjoys watching his children and grandchildren get ribbons in the show rings or simply make their owners happy.